NEW PROMO: Enjoy FREE courier delivery in Singapore when you purchase a minimum of S$39.90 in a single receipt. Use code: HAPPYSHIP19 upon checkout.
NUK Disney Baby Winnie the Pooh 300ml PP Bottle - Blue (0-6mths)
(+10% OFF For VIP members)
We have run out of stock for this item.
Share Now via WhatsApp
Share Now via WhatsApp
Many Reasons to Shop Little Baby!
1. Gift wrap is available and chargable upon special request.
2. Enjoy lowest local delivery fee of S$3.99 or get a free local delivery for purchase above S$58.
3. Enjoy instant 1.5% cash rebate for bank transfer, DBS PayLah! or Paynow payment.
4. Spend a min of S$188 and become our VIP member to enjoy 10% OFF!
5. Upgrade your VIP member to our Platinum member by spending a total of S$688 to enjoy free family studio photography worth S$399.
6. Enjoy 10% OFF for first time customers* Terms applies
7. Spend $1 Earn 1 Linkpoint if you are a Plus! Member.
8. All our products are original and 100% authentic with manufacturer warranty. We do not parallel import items from unknown overseas sources.

NUK Premium Choice Disney 300ml PP Bottle with Silicone Teat - Disney Baby Winnie the Pooh - Blue
Life with a baby is colourful! In a household with children, you have to be prepared to experience unexpected adventures every day. So it's good if you can remain relaxed and cheerful in the process! A real role model for such situations is Winnie the Pooh: he masters every adventure and always stays in a good mood. Winnie the Pooh and his friends are now appearing on NUK First Choice+ Baby Bottles in new, modern designs.
The most natural teat for your baby
For many years, NUK First Choice has been the first choice for bottle feeding modelled on breastfeeding. NUK First Choice+ has succeeded in coming even closer to nature – for healthy jaw development and a drinking sensation as if at a mother's breast. 
Natural and shaped correctly for the jaw
The special NUK Shape is modelled on a mother´s nipple as she breastfeeds. It leaves your baby´s tongue and jaw enough room for natural sucking movements.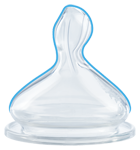 Soft as a mother's breast
With its soft zone, the silicone baglet is an even better fit against the roof of your baby´s mouth – giving a natural feeling while drinking.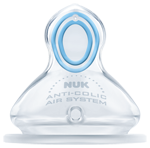 Helps prevent colic 
The improved Anti-Colic Air System creates a natural flow so that your baby can drink in a relaxed way without swallowing air.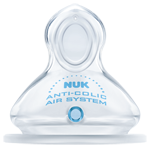 Clinically-proven*
Due to its particularly natural shape, the NUK Teat is very well accepted by babies. This means that it is also suited for babies who are both bottle and breastfed.*
Baby bottle made from light, shatterproof polypropylene
The extra-wide bottle neck of NUK First Choice Bottles makes them easy to fill and clean. The slightly contoured shape means that the bottle can be gripped securely, while the wide base gives stability.
Specifications
0-6 months
300ml
M size teat: Milk, Formula
Original NUK
Made in Germany
Clinically proven
BPA free